Upcoming SRR Events
---
Society for Radiation Research (SRR) and Indian Women Scientists' Association (IWSA) organize Special Lecture on Marie Curie titled "Life and Radiological Discoveries of Marie Curie: Role Model for Women in Science" on Nov 17, 2018 (Sat), 3 pm at ICICI Multi Purpose Hall, IWSA Head Quarters, Plot 20, Sector 10A, Vashi, Navi Mumbai 400 703 by Dr Sunali Khanna, Nair Hospital, Mumbai.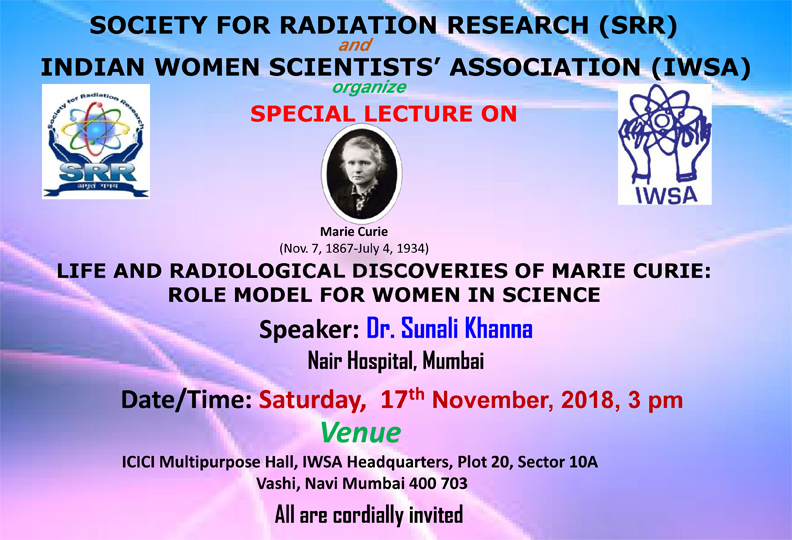 ---
SRR Workshop on Current Challenges in diagnosis and radiotherapy of cancer on Oct 6, 2018 (Sat) at Vidyalankar Educational Campus, Vidyalankar College Road, Wadala (East), Mumbai 400037.
Important details are as following for easy reference:
Contact details
Prof. Geetha Narayanan, Mob: +91-9821854617
Email: geetha.narayanan@vit.edu.in

Prof. Suvarna Udgire, Mob: +91 9702960409
Email: suvarna.udgire@vit.edu.in

Registration form is available in brochure or can also be done online: https://tinyurl.com/y767vo8o
Last Date for Registration: October 1, 2018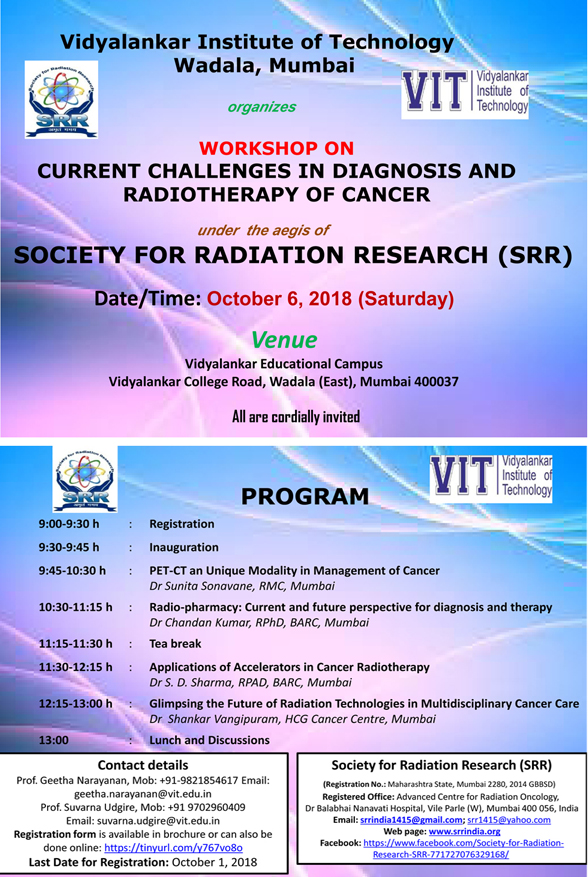 Our Sources of Inspiration
---
Contact Information
---
Registered Office : Advanced Center For Radiation Oncology, Balabhai Nanavati Hospital, Swami Vivekanand Road, Vile Parle West, Mumbai, Maharashtra 400056, India.
Email : srrindia1415@gmail.com / srr1415@yahoo.com